Thirsty Dragon: Moving Heaven & Earth To Bring Water To Beijing
October 1st, 2010
Via Terra Daily, an updated look at China's $62-billion South-North Water Diversion, which will bring water to the parched capital via three major phases: 1) the 885-mile eastern line from Hangzhou to Beijing, which mostly follows the route of the Grand Canal and is hoped to be ready by 2013; 2) the middle line, which is supposed to open in 2014, runs 766 miles, although it might be extended; and 3) the western section, which is still in the planning stages, would funnel water from the Tibetan plateau. But with serious cost overruns and delays on the eastern and middle routes, there are doubts about whether the third line will be built at all.  As the article notes: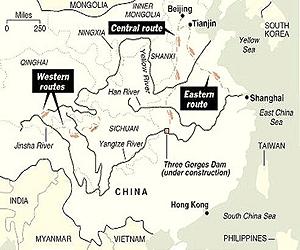 disclaimer: image is for illustration
"…China's $62 billion South-North Water Transfer Project is forcing the relocation of 330,000 people and may not even deliver clean water.

The system, designed to supply 45 trillion gallons of water for hundreds of millions of people in Beijing and drought-prone northern China by 2030, involves a mix of canals, tunnels and aqueducts spanning thousands of miles across the country.

Sans pumps, it will rely entirely on gravity to run water from the south's higher elevations, to the north.

In the province of Henan, for example, a canal 1,000 feet wide and 180 feet deep has been dug that will pass beneath the Yellow River.

In Hubei province, engineers have raised the height of the Danjiangkou Dam, forcing the eventual relocation of 330,000 people.

Last month, 1,600 people were moved to a government-designed village in Guanggou surrounded by a tall iron fence, where they are being trained how to farm the land that is drier than their old fields.

Wang Shushan, who is in charge of the South-North diversion project in Henan province, where most of the construction is now focused, compared the massive endeavor to China's Great Wall, saying it is "essential for the survival of China," the Los Angeles Times reports. "It is a must-do project. We can't afford to wait."

China's current total water shortage is around 1.5 trillion gallons, equal to three times the annual water supply of New York City, says China's NDTV. Annual water demand in Beijing is expected to swell to 1.1 trillion gallons by 2020, city government estimates indicate.

But Liu Changming, a government adviser on the project from the Chinese Academy of Sciences acknowledges that the diversion project does carry risks.

"This project carries water from south to north, while China's rivers flow from west to east," he told National Public Radio. "The intersections are very risky. In extreme weather, mudflow or debris flow or flash floods could occur. We must take preventive actions."

The Chinese government has also acknowledged that the water from an eastern spur of the project is so toxic that it may not even be fit for agriculture, the Times said.

"They are robbing the water of the rest of China to supply Beijing — and it probably won't work anyway," said Dai Qing, a pro-democracy activist who focuses on water issues.

Dai pointed out that there wasn't enough clean water in the south to supply the north and that whatever reaches Beijing might be too polluted."
---
This entry was posted on Friday, October 1st, 2010 at 12:05 pm and is filed under
China
,
Yangtze River
,
Yellow River
. You can follow any responses to this entry through the
RSS 2.0
feed. Both comments and pings are currently closed.